Several Gallons of Duplo
My mother's in from out of town visiting, and we've been having a lot of fun. One of the most satisfactory things we've done together is what we did on Thursday, going to the first full day of the "Just Between Friends" consignment sale here in Denver. (If you're a parent, these things are magic - cheap used items (or cheap unused items) all in one place.)
While Tammy and Mom worked on the practical things like clothing and shoes, I made my way with Rose over to the toy areas. First we looked at the large items - there was a collection of art easels, for instance, and toy kitchens, and then bikes. Then we made our way to the small toys and made our way through. Although it was fun to have Rose look at all the various toys that were available, the thing I was looking for was any Lego sets. There weren't any adult Legos, but soon enough I found three different packages of Duplo bricks - a big green cannister from about ten years ago which was fifteen bucks, a plastic comforter bag with more bricks for another five, and a smaller bag full of zoo pieces for another three. Jackpot!
We got them home and started looking at them, and it's great. We've got a tractor with trailer, an old one-piece duplo airplane that takes an old head-and-shoulders brick, about half a dozen duplo figures, almost a dozen animals, four wheeled platforms and a big red baseplate. Oh, and a giant rabbit head: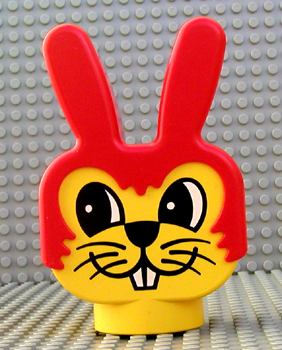 The blocks were a bit... well, 'well used', is a good word for it, so we threw them all into a mesh bag and washed them in the clothes washer, setting it on delicate and very cold wash, with just a touch of clothes washing liquid. It seems to have done a fine job of cleaning the bricks without hurting them at all. (Naturally, we don't dry them in the dryer, I spread them out to dry.)
I feel very parental - tons of lego to play with, for very little money. Plus, we got books, shoes, and a ton of clothing for the next year or so of Rose's life.